It's the end of the year, and here at Qurio, Christmas may come any day now — we are closer than ever to launching the early version of our audience engagement platform!
It is a milestone that we've been looking forward to since the first day we embarked on this journey. Research is great, and talking with newsroom leaders and practitioners across the USA and Canada is always something we crave, but now is when the proverbial rubber hits the road.
In the meantime, we would like to get you behind the scenes and talk to you about our newsroom market database.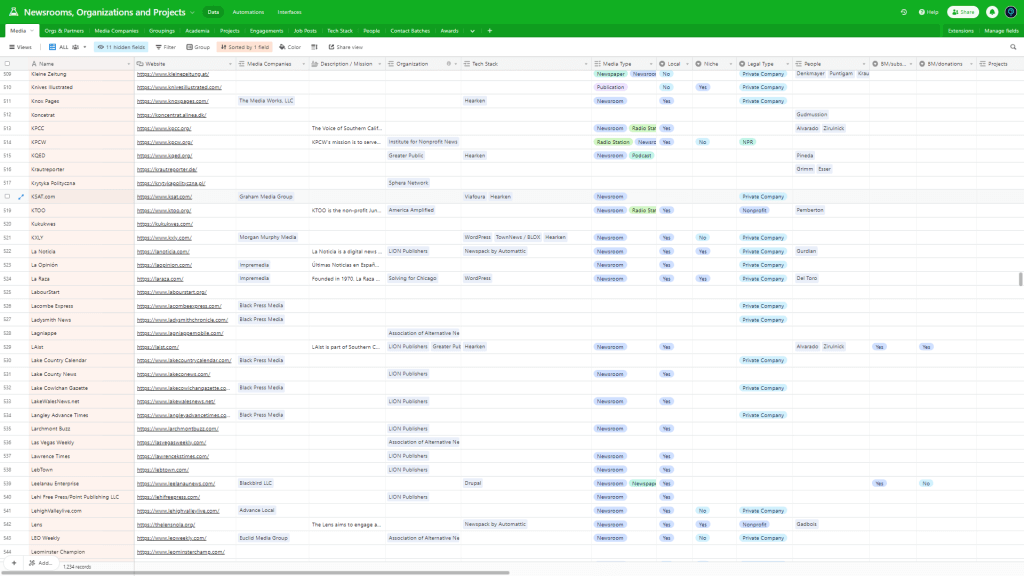 Why are we building our database?
We're building a product for local newsrooms and member-driven media. Therefore, it makes sense for us to get a better view of the ecosystem out there.
Fortunately, a lot of research is coming out regarding "news deserts," the rise of nonprofit newsrooms, and the emergence of journalism creators. However, there are still good questions out there that need to be answered.
All the above organizations result from a massive transformation in the news business. Disruption in business models brings rapid changes in the industry, and this evolution—that's still in the making—isn't fully documented.
At Qurio, we're on a mission to serve all these segments while helping small and medium-sized newsrooms. And that's where we find the most difficulty; in mapping this landscape under massive organizational, commercial, and technological evolution.
No matter what, investing in this database means a lot to us primarily because it is one of the most direct ways to contribute to the news & media community with some unique insights.
Now, let us guide you through our process:
Data points and insights
After researching mostly the U.S. news media ecosystem for two years, we built a database of media organizations of all shapes and sizes. Our precious, hand-crafted data set comprises over twelve hundred (1,200+) media entities, with almost eleven thousand (11,000) individual data points.
Not only that, but we also keep track of existing relationships in our records. For example, we can tell that the Iowa Capital Dispatch is part of States Newsroom, a nonprofit media group, or that The Atlanta Voice is a member of the Institute for Nonprofit News and LION Publishers.
To make it clear for everyone reading this, this is an example of what a final record looks like – details are underlined:
Documented is a non-profit news site devoted solely to covering New York City's immigrants and the policies that affect their lives.
They are a local, nonprofit newsroom covering a niche set of topics.
They are part of (or directly collaborate with) organizations such as LION Publishers, the American Journalism Project, and the Institute for Nonprofit News (INN). They have Blue Lena as part of the technologies they use.
In the past, they have been involved in projects such as Google News Initiative 2021 and received awards in the 2022 LION Local Journalism Awards.
If we want to contact them, we can speak with Nicolás Ríos, their Audience Engagement Editor. Nicolás is an award-winning journalist living between NYC and Valparaiso, Chile. Hi Nicolás! 👋
Curious about some insights?
Here are some stats and figures that we find interesting:
Four out of five newsrooms can be considered local newsrooms.
Only half of the newsrooms audited can be considered newsrooms that cover a niche audience on a topic. The other half covers various topics such as policies and politics, economics, culture, sports, news, opinion, etc.
The news media industry loves WordPress. It is by far the most popular CMS out there. It is worth mentioning that Newspack by Automattic (based on WordPress) is an important and growing subset of that.
There is a strong presence of associations of media organizations, either locally or about a specific topic or viewpoint. Active associations and collaborations are vital signs of a healthy ecosystem.
Finally, there is a robust presence of nonprofit media organizations. This was particularly interesting for us since this is not the norm where we come from, and it made us change our viewpoint for some specific regions, such as the USA and Canada.
The problem: lack of robust market intelligence for the media landscape
Building this database required an investment of a couple of hundred hours among a seemingly endless stream of browser tabs. Additionally, it requires combining different sources of information and cross-checking it with third-party tools.
We strongly believe that this time investment is not possible for the vast majority of the participants in the media ecosystem. Alas, there were times when we questioned the effort we put into it! But, at least, we now know there was a good reason to do so: There was no real alternative.
The main reason that we started crafting this database was the lack of concrete, robust market data about topics, such as the local newsroom market, the total number of nonprofit newsrooms, the business models that media companies rely on, the technology they use, etc.
Don't get us wrong! There are great sources of information from institutions that do a lot of heavy, much-required work. It would be totally unfair not to mention, amongst others:
Institute for Nonprofit News,
LION Publishers,
News Revenue Hub,
Lenfest Institute,
Craig Newmark Graduate School of Journalism (CUNY),
Local News Initiative, and the Medill School of Journalism, Media, Integrated Marketing Communications at Northwestern University,
Pew Research Center.
However, apart from the aforementioned organizations, the available market research for the media isn't advanced — and when it is, it's pricey. And I cannot help but notice that there is only one metric that keeps coming back as the primary indicator of the health of our media ecosystem: Layoffs.
Here are the newsroom layoffs, furloughs, and closures that happened during the coronavirus pandemic — Poynter
After increasing in 2020, layoffs at large U.S. newspapers and digital news sites declined in 2021 — Pew Research Center
Gannett Starts Another Round of Staff Cuts — The New York Times
Are layoffs the only thing happening right now in the media? We believe that it is not the case. We are always on the lookout for new questions, and it would be amazing if we could help you, the reader, answer some of these questions using our data.
And, most importantly, something that's deeply intertwined with our company's culture. We believe in building real relationships, at work, with clients, and everywhere. We are investing all our time and energy into a product that will enhance these relationships, and we wanted to bring our ideal clientele together on a list.
We'd love to work with you and create something that fits your needs. Most newsrooms face the same problems with audience engagement; if we can help you succeed, this would mean the world to us.
The future of our market research
So, we're going to keep expanding the database. We aspire to spend the next phase of our research not so much increasing the total number of newsrooms but enriching the profiles of the already existing ones. This will help us draw a better picture of the landscape and give us more opportunities to dive deeper whenever required.
Our second main consideration is to take care of our internal biases and insufficiencies. For example, we are aware that we might have over-indexed English-speaking newsrooms in the USA and Canada and, perhaps, missed the opportunity of including Spanish-speaking newsrooms or other key newsrooms in Latin America, Southeast Asia, or Africa.
We would love to turn this database into an actual resource for all of you. So, please, help us answer YOUR questions! What should we look out for? What should we keep track of? Is your media organization already included in the database? Let's talk!